I met Sharon Ashkenazi through her wonderful project team here in Israel. Oren Cnaan contacted me a while ago to add their organization,  Israeli Salad to our organization database (run voluntarily by our dear Dan Noam). During my conversation with Oren I was intrigued by what,  and particularly by who stands behind this initiative. And so, crossing virtual continents (how else in these Corona days) we connected to Sharon Ashkenazi the activist, entrepreneur and the person behind Israeli Salad, and conducted an inspiring interview.
Tell me a little bit about yourself Sharon Ashkenazi
Me? A friend once called me a walking community center, my spouse claims that I'm still an Education Officer (Israeli military reference) and a childhood friend says that I'm a 'magshima'…(a fulfiller…) in the spirit of our youth movement.
I don't know if a former Israeli (AKA 'Yoredet'…) can be called a 'magshima', but everyone knows that you can remove the girl from her homeland and youth movement, but apparently you can't remove the homeland, spirit, experience and fulfillment course, you know what I mean…from the girl, and to be truthful, the girl isn't really a girl any longer.
My name is Sharon Ashkenazi, almost fifty years old, thirty of them in the homeland, and another two decades moving between New York and California, interior designer, blogger, educator and community coordinator with plenty of experience in the formal field (teaching history and citizenship in high school, teaching at SUNY) and in the informal field (Silicon Valley Tzofim and Beged Kefet Hebrew School), and educational entrepreneur, active in the Israeli and Jewish communities in the Silicon Valley, former member of the OFJCC and ICC boards as well at other myriad organizations and committees. After many years of community leadership and activity, that taught me to identify needs and give them an educational response in my community, I felt it was time to do something in Israel and use my knowledge, experience, connections and resources in the Silicon Valley. That was the birth of Israeli Salad.
So, does your past have anything to do with the birth of the idea?
I'm actually a 'salad child' what used to be called a 'mixed child'. (Today it sounds funny to me, but in the sixties and seventies that was what you called a mixed marriage between different ethnicities in Israel). My mother was Israeli born, the daughter of Holocaust survivors from Poland whose entire families were killed in World War II. My maternal grandparents both lost spouses and two children and met at a refugee camp in Germany, there they wed and their eldest son was born, they made Aliyah, and my mother and her younger brother were born in Israel. My grandparents experienced another tragedy when they lost their youngest son in the military. All the hardships gone through by modern day Jewish people were realized by my mother's family.
My father, may he rest in peace, was born in Algiers under French rule, and his family also made Aliyah being passionate Zionists. A completely different family from the Polish one, with its energy and North African happiness combining French culture and a French accent, 'mimunot', 'hinot' many cousins in Israel and France. I really grew up moving between cultures all my life, between East and West, with a lot of openness and humanity, but only when I arrived in America over twenty years ago, did I discover to my astonishment, that all my friends are like me, Jews, Sabras, white…and so how was it that I had to come to America in order to have a Muslim friend?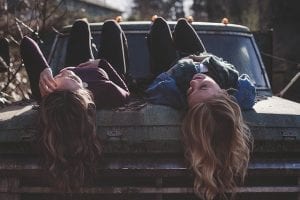 So, what changed and led to the creation of the Israeli Salad project?
Like many Israelis, I too am a product of a dissentious education system, divisive media and conflict-inducing politics.
My journey to Salad began with a trip to Poland with the Scouts' volunteers. For the past few years I've been fortunate to join the senior scouts' trip to Poland. For me it was a heritage journey. In Auschwitz I saw a page dedicated to my family in the Book of the Dead and I had a revelation about the connection between racism, incitement and the Holocaust. This by the way, is true for all time periods and all localities.
The racism demon is the most violent. More information on my experiences on the Poland journey and its ramifications can be found in my blog posts: Journey Journal, Tribal Memory, and All of I've Lost.
And on the other hand, a few years ago during a family trip to Morocco, I was both amazed and embarrassed to discover that the sound of the Muezzin "Allahu Akbar…" frightened me. Me?
This prompted my need to do something. Ruvi Rivlin's 'tribe speech' put things in perspective for me, that Israel's future depends on shared living.
There's a beautiful quote from a Muslim mathematician-philosopher of the middle ages: 'ignorance leads to fear, fear leads to hatred, and hatred leads to violence. This is the equation.' It immediately got me thinking how to turn it around, instead of ignorance, create a meeting, acquaintance, shared learning, instead of fear, inclusion and safety, instead of hatred, friendship and love.
How did you manage to create this project long-distance?
It was clear to me that since the project deals with shared life, it must include partners, educators from all sectors. And that was the first thing I did.
About two years ago, I assembled a group of impressive educators from all sectors of Israeli society for this project.
Dr. Hilal Trudi, a Druze physician and the initiator of the Academic Union organization, Dr. Niroz Zoabi, a graduate of the Technion medical school, Sharon Galperin, one of the founders of Bridge over the Valley school, a senior member of the Merchavim Institute, Ronen Drori, director of the Rabin Leadership Program at the Interdisciplinary Center in Herzliya, Rabbi Shmuel Yoseph, a Rabbi and educator who immigrated to Israel with Operation Moses (Mivtza Moshe), Omer Zonenshine, former training coordinator of the Israeli Scouts and today the CEO of Israeli Salad, Yarden Ben Porat from BINA and Sabeel Khattar, one of the founders of "Ruth – Women Make Peace." I also recruited attorney Uri Gil Bar-On and Yona Kneller as our bookkeeper, all of them are volunteers, people with a mission to influence and improve the face of Israeli society. In full partnership with the steering committee, we created the Salad, from vision to fact.
For the first time, when we all sat down with Hilal in Haifa and a twinkle in our eyes and made a small salad of the committee, it was an exciting beginning and then everything just came together easily…we hired four amazing educators, young and experienced. Oren Cnaan and Ranin Diab direct and guide the program alongside the counselors, Lea Desta and Ameer Anabusi, they also represent the diversity of societal sectors. Omer Zonenshine, one of the founders of the steering committee, accepted the role of CEO. We have a very impressive staff who believes in education and a shared life.
Here's an example of a women's meeting in my home in America…a brunch in February 2020, dear friends who came to hear how our Israeli Salad program was progressing and I'll continue talking about how we were able to create this all with the help of others along the way and a lot of cooperative endeavors that helped us succeed over time.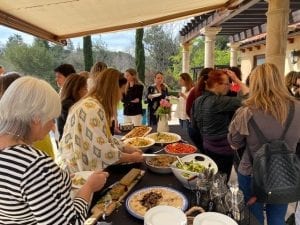 Truly, many good people helped us along the way, Avishai Nachon, Effi Ramati, Alon Parnass and Tami Menkowitz, Makimama who offered their exclusive camp on the beach as a home for the leadership seminar. A long list of inspirational speakers from my amazing community in the Silicon Valley who all volunteered and contributed, and thanks to them…! We were able to double our program after a year!
Israeli Salad is blessed with having many virtuous people on our side. Like they say, 'it takes a village to raise a child.' And here are some experiential pictures of the members of Israeli Salad, and right after the pictures we'll understand better what exactly this project is and how it's run.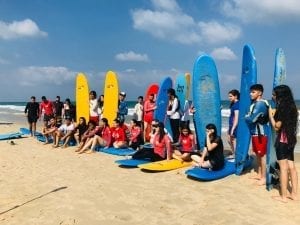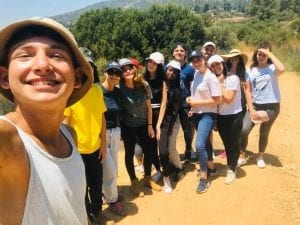 So, what exactly is Israeli Salad?
Israeli Salad: meet. Get acquainted. Create.
Israeli Salad is a leadership program for teens from all walks of Israeli life, meant to create an embassy of democratic discourse, equitable, respectful and tolerant.
Meet: the program creates a meeting between teens from all sectors of Israeli society. An experience, enjoyable, based on the common denominator – youth
Get acquainted: ourselves, each other and the sectors, cultures and issues. You learn, expand your knowledge and become closer.
Create: initiatives and collaborations between young people to establish a space for shared life.
Participants are teens who have finished grades nine and ten from all sectors, Christians, Muslims, Druze, Bedouins, Jews, Sabras, Ethiopian immigrants, the children of immigrants, religious, secular, city folk, country folk, a salad!
In Israeli Salad, everything is salad, the scouts, the hosts, the members of the steering committee, also the content, originally from the bookshelves of diverse cultures. Israeli Salad is a growing program, perennial, its graduates are its leaders.  
We began with the first leadership seminar in summer 2018, we were guests at the prestigious Kimama camp on the beach, (for me it was the fourth birth ? and the program makes me as proud and gives me as much satisfaction as I get from my own kids). It moved me to tears to see eighteen prime teens, meet and learn to know and appreciate each other beyond labels and preset notions. The first team included Druzes, Muslims, Christians, Jews both Sabras and Olim from Ethiopia, religious and secular, people from the city and the countryside in the North. For the second team we also had Bedouins!
The kids arrived as strangers with fears and concerns, that they admitted were somewhat fanned by the media…fear of blacks, fear of Arabs, a lot of prejudices that were overturned, after a few days they were family. In Israeli Salad, everything is salad! The Scouts, hosts, speakers, motivational people, content resources, steering committee, the salad happened in almost all the circles.
It was a "vaccine against racism", and that was just the beginning.
In the summer of 2019, a younger team was added to the project, altogether about forty teens have already been part of the project.
The leadership seminar in the summer is just the beginning, afterwards the Salad teens meet for a month-long workshop, a day trip or a two-day seminar. The idea is to meet, get to know and create a new reality. The meeting is a multicultural celebration and takes place in the places the kids come from. It could be a Ramadan celebration in Abu Snan, a Christmas tour of Nazareth, a fun day at a Kibbutz, Hanukah in Haifa, or a couple of days in Jerusalem.
During the meetings we hold discussions and deep conversations on myriad subjects relevant to Israeli society. We knowingly touch upon complex issues. It could be a discussion of the Israeli-Palestinian conflict and a look at Fauda (TV series) led by Omri Assnheim and Tsahi Halevi or a session about the integration of the Arab sector in the business community led by Sami Asad, we touch upon almost all subjects that are on the Israeli agenda, the Nationality Bill, the gay community, status of women, the over-policing people of Ethiopian extraction, ecology, and so much more.
The idea is to train the 'caring and social justice muscle' and instill leadership skills in teens so that they can lead community projects according to needs that they'll identify. Take a peek at the summer of 2018, an exciting summer where the program felt more alive than ever.
Sharon, what was the plan, other than having teens from all walks of Israeli society meet?
I wanted the teens to be ambassadors. I also wanted them to do this long-term. We thought long and hard about how this idea could prove itself over time. Today, I can tell you that the senior team members of Israeli Salad are leading projects in their communities. Each according to the need that s/he identified in their community, be it women's status in Arab society, shared life of Jews and Arabs, advancing leadership projects in the Ethiopian community or nature conservation, etc.
Salad is a way of life, and these teens will grow up to be leaders of the country, no matter what they decide to pursue, education, technology, medicine, governing or politics, they understand the importance of shared life, knowing each other's culture, being able to identify social injustice, social need, speaking the language of tolerance, respect and  inclusion. Imagine the wonderful future they'll bring to this country and the world.
The situation in Israel, the polarization, racism and incitement, demands a project like this, and informal education is the right format for it. Israel hasn't been blessed with a large territory, but has been blessed with a diverse human resource, if we can't succeed to utilize it for a common good it would be a certain tragedy. And it's important to start as soon as possible with 'a vaccine against racism,' together with shaping teen identity, utilizing teen passion for change, their curiosity and spark, using friendship as a shared power to make a difference.
As we are now at a time of isolation due to the Corona virus and can't hold Israeli Salad meetings, what are you doing?
Unfortunately, Corona hasn't skipped over Salad, and we had to cancel Salad celebrations, but Salad knows how to turn lemons into great dressings ?, and we decided to make our meeting virtual, a social get-together with fascinating content.
Only this week we had Nahd Bashir as a guest at our meeting, actor in Fauda and creator of TV series Dr. Karage, it was fascinating, the kids asked questions, and the discussion was inspiring. Omer, the Salad CEO, while in Miluim in the Medical Corps, examining Covid 19 patients, was a guest at another meeting and answered questions, Mira Awad and Stav Shaffir have also agreed to participate as did Yasmin Lukatz from the 'Krishim' (Israeli version of Shark Tank), so there are going to be very interesting meetings coming up. Peruse our Facebook page to keep up-to-date.
So how can we help?
Great question…!
Resources
The Salad's magic happens thanks to private donations from Silicon Valley, generous people who feel responsible for Israel's image. All donations are for the program and the teens, as there's no cumbersome organization, there's no administration. Our steering committee and lecturers are volunteers!
Do you want to donate? We would love more partners to our initiative
Qualifications- are you an expert on a relevant subject? Are you a fascinating lecturer? An artist? Do you hold activities for teens? Do you have a youth hostel? Maybe you're an expert marketeer? Any donation of time, place or content would be a blessing for our program!
Connections- if you're well connected and know someone who could support us with resources or skills, connect them to us…!
And if you'd like to read more, then check out our write ups. And if you have any comments, please let us know below.